If you have broken window hinges or have a window that is not shutting properly due to bent hinges we can replace these quickly.
Call us on 07748 842375 for a fast quote and in most cases a same day service.
We can fix and replace most hinges easily.
We also replace seals if needed and will advise on how to stop it happening again.
If you need window hinges fixed or you have bent window hinges or you cannot shut your windows give us a call on 07748 842375.
Here is an example of a bent window hinge: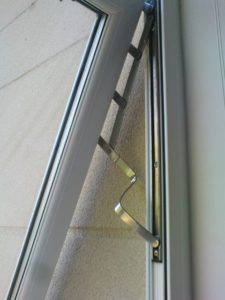 Don't suffer and stress – let's get you sorted! Call us on 07748 842375. We offer fast repair and a free quote with a same day service (in most cases) to anyone around the Morecambe, Lancaster, Heysham area.