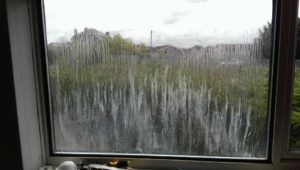 Do you think you need double glazing repair? Do you have misty windows or it looks like water is trapped inside?
If so, don't worry, I know it can be a bit unnerving when you start to think of the cost and whether it will damage the value of your home.
This page will give you a simple 3 step process to find out if you need double glazing repair – plus I will advise on how to get it fixed without having to break the bank!
Give Them A Clean: This sounds really obvious but you will want to clean them first. If you give them a wipe over and clean and you are still seeing them mist up or water inside it is a sign that the seals have gone in the windows.
Very simply, the seals hold the panes of glass in place, as it is double glazing so there are two panes of glass these are held in place by the seals. With the different weather conditions and the windows heating up and then cooling down over the years it can cause the seals to perish and that is what can cause the problem.
Water inside the window – This is a clear sign of failed units. It looks a bit like condensation but never goes – if you have this problem you will need to get it fixed.
Misted Up Windows – This is the same as water inside and is actually what happens BEFORE you start to get water inside. So if it is not fixed your windows will eventually fill up with water.
How To Repair Your Double Glazing?
The good news is that this does not have to be that difficult! You can contact us below if you are in the Morecambe, Heysham or Lancaster areas and we will give you a FREE, NO OBLIGATION quote.
We can virtually guarantee you will be pleasantly surprised with how easy this is to fix.
Check out the Heysham Glazing About Us page or give us a call on:
Call us today for a free, fast no-obligation quote: 07748 842375
Alternatively, you can call the landline on: 01524 851442.