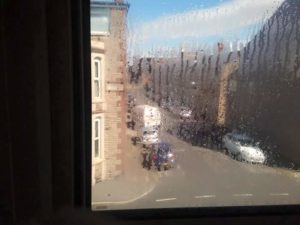 If you have misty windows this normally means that you will need double glazing repair and that the seals in between the glass have failed.
The way windows work is that years ago windows would be single pane. This does provide some protection from the elements but of course they are not as strong and they will not keep your house as warm either.
So, the invention of triple glazing and double glazing came into effect. As the name suggests, double glazing is actually two panes of glass that are separated by seals to make sure that they are airtight.
As with everything the seals do not last forever. As they start to deteriorate over time you will notice misty windows or moisture on the window that you cannot wipe off. This is because it is inside, if the seal has completely gone you will notice that the window fills with water.
How To Repair Misty Windows?
The good news is that if you have this problem it is not as expensive as you may think to have it repaired. In most cases it can be done on the same day and the anything that you need to make sure is that you get a good service and you also get someone that specializes in window repair.
You can check out our gallery to see some of the window repair jobs that we have done and the misty windows that we fixed.
If you're based in the Lancaster, Morecambe, Heysham or Caton areas give a call below for a free no obligation quote and the fast fix for your double glazing:
Call us today for a free, fast no-obligation quote: 07748 842375
Alternatively, you can call the landline on: 01524 851442.