On this page we going to give you some information that will help you if you are looking for double glazing repair or you are trying to find out whether you actually need it. This page will deal specifically with your window seals and how to tell if they have failed.
How Double Glazing Works:
For many years a single pane of glass would suffice to protect you from the elements outside. Now, you will find it difficult to find a single pane window. Replacing the single pane was of course double glazing and even triple glazing.
Double glazed windows are two panes of glass which are kept inside an airtight frame. This helps to guard you against the weather and it can also help to stop heat from escaping.
The problem that it brings is with the seals – these can break down over time and eventually will need replacing.
How To Tell If Your Window Seals Have Failed?
Here are some tips that will help you to work out whether you need double glazing repair. This will also help you work out whether the seals have failed on your windows.
Give them a clean – the first thing that you should do is give them a clean, this sounds obvious but you want to make sure that you are not looking at moisture on the actual panes of glass.
Common tell-tale sign of windowsills that failed is moisture within the glass, this can appear as fogging or hazing.
See the picture below for an example: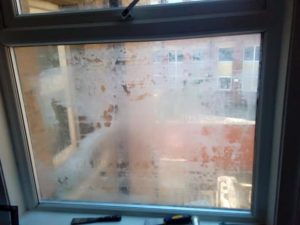 What To Do If You Need Double Glazing Repair?
The first thing to do is not to panic as in most cases this can be fixed fairly cost-effectively. You could of course look at having the window replaced yourself or even doing it yourself but for a stress-free option we recommend using an established window repair firm.
Heysham Glazing has been trading for over 10 years in the Morecambe, Lancaster and Heysham area and can provide a no obligation quote as well as a quick repair for most double glazing problems.
If you want us to fix the double glazing and replace the seal of your window give us a call for a no obligation quote on:
Call us today for a free, fast no-obligation quote: 07748 842375
Alternatively, you can call the landline on: 01524 851442.